Airfactor #4 Label and MSDS in PDF Format.
Airfactor #4 SC Label and MSDS in PDF Format.
Airfactor LAOC Label and MSDS in PDF Format.
Airfactor ST Label and MSDS in PDF Format.
Airfactor FC LABEL and MSDS in PDF Format.
AWC Products
- Quality Beyond Expectation
Our Scientifically-formulated odor counteractants are nontoxic products that function just as plant foliage does in nature, restoring air back to its natural composition, eliminating offensive odors.
Airfactor #4
Airfactor #4 is a scientifically formulated, nontoxic odor counteractant. #4 neutralizes odors - wherever odors create a problem. As forest foliage does naturally, it restores air to its natural outdoor freshness.
Airfactor #4 (Custom)
This is Airfactor #4 customized to your specific needs whether that is in the form of a higher level of concentration or a marker added to the product. This is where you tell us what you need and we make it happen!
Airfactor LAOC
LAOC is a newly developed liquid absorbent and odor counteractant, manufactured from recycled natural cob. It contains no unhealthy crystalline silica normally present in clay based products. It's porosity allows the odor counteractant property to dispense for longer periods of time leaving in its area of influence a fresher atmosphere. No harsh chemicals are ever used in our odor counteractant products. LAOC is excellent for use in waste transport vehicles, solid waste facilities, transfer sites and all other organic waste facilities.
Airfactor ST.
Airfactor ST is a super-concentrated culture of bacilli preserved as a stable microbial product. Designed from the ground up as a microbial grease, sludge and odor treatment product used in the aerobic digestion of industrial waste, sewage treatment in extended aeration plants and sewage collection systems. It is designed to break down the built-up grease and sludge, ending the production of hydrogen sulfide and other noxious odors. It is certified free of Salmonella & E. Coli.
Airfactor FC.

Airfactor FC is a super-concentrated microbial cleaner, designed to clean and deodorize the floor in a trash transfer facility. When mixed into the tank of your floor sweeper cleaning up is that simple.
AWC Equipment

We are authorized distributors for the manufacturers equipment listed below. not all models listed, if you need something that you do not see, please call. models listed are the most common equipment used.
AquaFog TurboXE
TurboXE-500
The smallest of the TurboXE fogging fans; the XE-500 (1/4HP*, 60Hz) is designed for small spaces that need the fogging capability and industrial quality of the Aquafog line. This model has a maximum fogging output of 12 GPH and can propel fog up to 25 feet. Unlike the four-blade XE-1000 and XE-2000 fan assemblies, the XE-500 utilizes a two-blade fan, making it 30% quieter than the XE-2000.

Dosmatic A30 Chemical Injector
A30-2.5%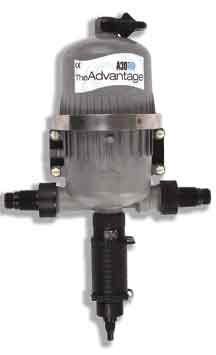 Flow rate: 0.15 - 30 gpm or 0,57 - 114 lpm
Injection rate: 0.2% - 2.5% or 1:500 - 1:40
Operating pressure: 5.0 - 100 psi or 0.34 - 6.9 bar
Inlet/Outlet: 3/4" inch hose/1" npt

Pow-R-Jet Drum Service Fogger

Drum Service Misting Unit
Now, with motor saver brushes for extended use applications.
Large volume users will find the automatic dispersal of the Pow-R-Jet® DM 6329 unit an easy, affordable method of fogging.
With a preset output rate, this unit conveniently applies deodorants and other solutions as a heavy, wet fog. The Pow-R-Jet DM can use either water- and oil-based solutions. It is ideal for use in industry, waste treatment plants, trash transfer facilities ... wherever misting and wetting are desired.
The Pow-R-Jet DM -- dependable, cost-efficient equipment for large volume fogging.

SPECIFICATIONS
Motor
1 Hp, 120VAC 50/60Hz, 7 amp Optional: 240V, 3.5 amp
Fogging Nozzle
High-shear, vortex design nozzle
Particle Size
Wet mist (30 micron VMD)
Chemicals
Water- and oil-based solutions
Liquid Flow Rate
10 oz/min [300 ml/min], not adjustable
Capacity
Mounts to chemical drum (not included)
Materials of
Construction
Power head housing and drum adapter - aluminum
Tubing - fuel and oil resistant vinyl
Fittings - brass
Nozzle - Celcon
Dimensions
H x L x Dia: 15.4 x 10.4 x 8.6 in [39 x 26 x 22 cm]
Shipping Weight
12 pounds
Warranty Period
One year
Calgon VentSorb with Centaur
Ventsorb® 55-gallon drum size canisters are ideal for low-flow air purification applications. Shipped ready for installation, the units require placement on a level area and flexible hose or pipe connections. When treatment is complete, the Ventsorb® becomes a convenient shipping container which can be returned for reactivation of the spent carbon. Customers can also dispose of the unit in a secure landfill if appropriate. The Ventsorb® is also available in all-polyethylene construction for maximum corrosion resistance.
Specifications

Max Pressure (psig): 4
Max. Flow (cfm): 100
Carbon (lbs): 180
Misting Nozzles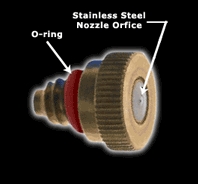 Synflex® Hose

Synflex® 3R30
3R30 hydraulic hose is a low-pressure hose designed for general hydraulics, hand tools, machine tools, lubrication systems, car wash equipment, refrigeration service, and construction equipment. It features a Nylon A core, two spiral laps of synthetic fiber reinforcement, and a polyurethane cover. It has a working pressure of 1,000 to 1,750 psi (69 to 120 bar), and meets or exceeds the performance criteria of SAE specification 100R3. 3R30 hose is available in sizes -03, -04, -06, and -08.
Synflex® 3130
3130 hydraulic hose is a medium-high pressure hose. It features a nylon-lined core tube, a synthetic fiber reinforcement, and a polyurethane cover. It has a recommended working pressure range from 1,000 to 3,000 PSI @ 4:1 safety factor (92 to 230 bar @ 3:1 safety factor), and meets SAE specification 100R7. 3130 hose is available in sizes -03,-03, -05, -06, -08, -12, and -16.

New Customer Special !

With your 1st. order receive a $50.00 discount per drum.
Links to top stories in Waste Age
SPECIAL REPORTS